Having choices is a good thing. That is, unless you don't really understand the differences between options A, B and C. Then it's tempting to simply put off making the choice. If you've decided to offer your users an embedded insurance plan, are you now a bit stuck wondering which one is right for them? And also right for your platform?
Before we explain the most popular types of embedded protection programs, rest assured that your decision to offer this benefit to your users is definitely a smart move. Providing protection or coverage directly related to your products or services has the proven potential to boost a prospective customer's confidence in your offering. And that, in turn, can improve conversion rates and overall satisfaction. Not only can you rev up your sales, but you can also derive profits from the embedded protection offering itself.
This article will help with the next step in the process: zeroing in on the best plan for your users. We'll explain the three basic ways an embedded insurance plan can be distributed (in embedded insurance, distribution refers to the way protections are structured and made available in the digital space). Then we'll show how different types of protection programs can be leveraged by tech platforms looking to provide additional value to their users.
‍
Fully Embedded Insurance Plans
This first type of distribution provides protection by default. All users who complete a transaction on your platform are automatically covered. Often called a guarantee, this kind of protection increases trust in the product or service and can sway a user to click "Buy Now."
You build the cost of the embedded insurance plan into the price of your product or service. All of your users are protected no matter what, and your user never sees the protection as a line item cost.
If you think this sounds like the type of embedded insurance plan you'd like to offer, there are a few points to consider. Because the coverage will apply to all purchases, make sure it has value or appeals to all your users, not just a segment of them. Also, with this type, you're likely to avoid any compliance issues as long as your embedded protection plan has a complementary relationship to your product. For example, a credit card can offer extended protection at no additional cost on the purchases a user makes with that particular card.
Opt-in Protection Plans
Just as it sounds, an opt-in program is presented to your user as something they can choose to purchase – usually during the checkout process. The coverage is structured as an extra feature available at an added cost.
It's important to make sure the protection you're offering adds real value and has appeal since it's quite easy for the customer to choose not to buy it. Like any embedded insurance plan, this type of coverage can generate another revenue stream if the offer is compelling enough to entice users to purchase it.
Opt-in protection plans are an attractive way to set yourself apart from the competition but still give your customers some choice in the matter.
With this type of protection, there are higher compliance considerations for you as the program provider, but the upside is that you're able to give your end-user more flexibility and a more personalized experience.
‍
Premium Tier Plans
The last type is a bit more complex, but for some tech platforms, this could be the best route. Premium tiered service plans offer your users one or more tiers to choose from. Each tier must have a distinct set of benefits bundled together, one of which is the protection or insurance offer. For example, your first tier might offer $1000 worth of protection along with other limited add-on benefits. The next tier could offer a $10,000 protection plan with even more robust benefits than the tier one offer.
The package price includes the cost of the embedded insurance plan - along with the other benefits. Users are able to select one tier of service with all the benefits it includes - not specific line items. In other words, the choice is between entire packages.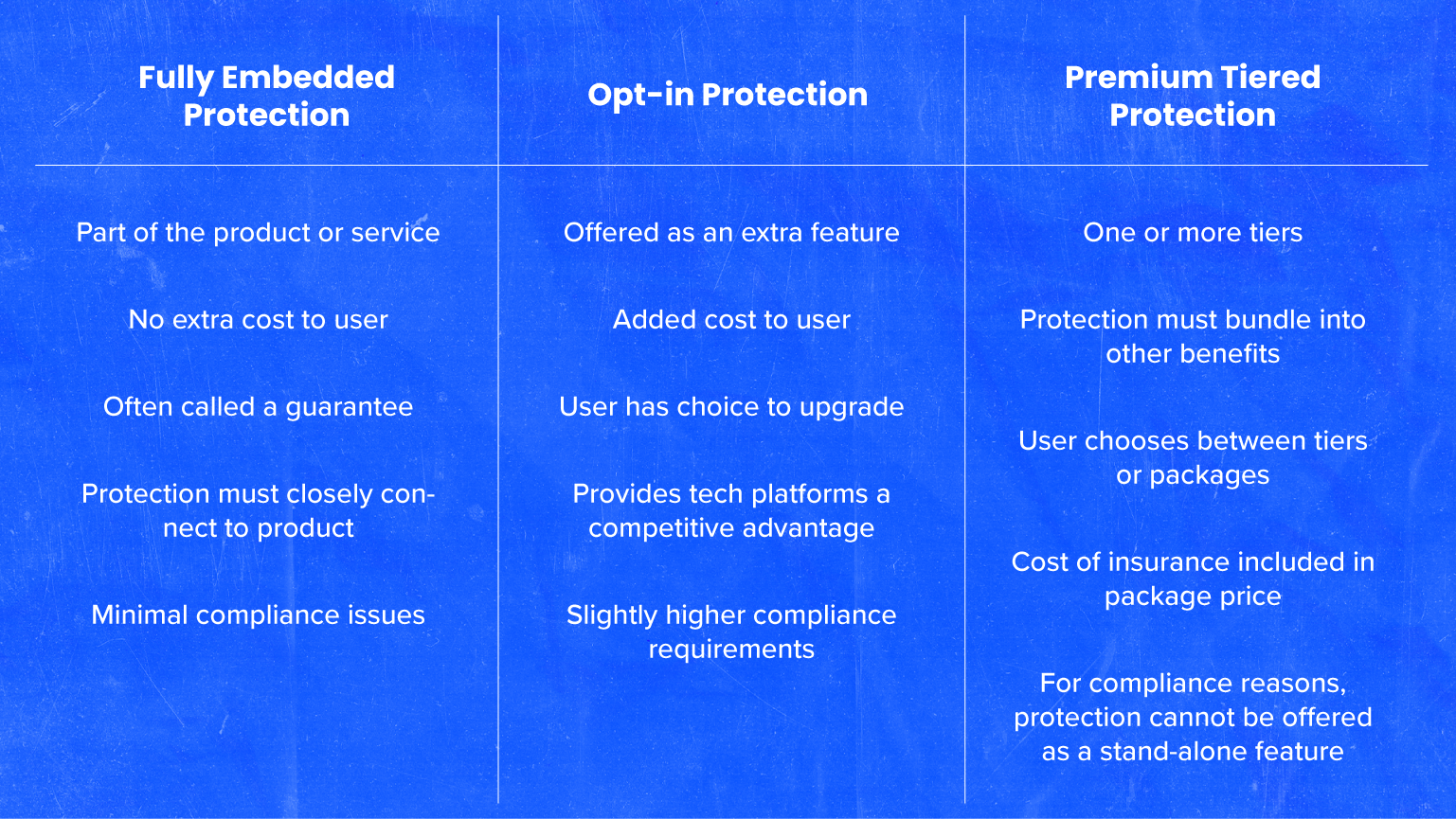 Choose Your Plan Based on Your Users
The mantra, "the customer comes first" works well to guide you as you decide how you want to distribute your embedded insurance plan. What will have value for them? What specific risks could you protect them from? What would make them feel more confident while using your tech platform?
Factor in Your Purpose and Goals
After you've spent some time thinking about your users, go ahead and define what you want from an embedded insurance plan. Do you see using protection as a customer acquisition strategy? Are you looking for a way to create a "stickier" user experience and increase their LTV?
You should also take into account your company's internal resources. How much time do you have to build a program? How much risk are you willing to take on? Don't let these questions intimidate you. Fortunately, embedded insurance is an emerging trend and there are experts who can provide guidance through the process from start to finish.
Now that we've covered the most common distribution methods - let's look at some common types of protection programs tech platforms can use today.
Shipping Damage Protection
Is your tech platform or marketplace focused on shipping? If so, you may want to offer your users protection from the risk of damage that can occur during the shipping process. Especially if you focus on shipping unique items like cars, pets, or other items with a high value. You can offer increasing levels of protection, for a fee, as long as it's tied to the value of the goods.
This type of protection is recognized at a federal level as non-insurance, so tech platforms don't have to be concerned with any state-by-state regulations. Keep in mind, the protection you're offering only covers damages caused in transit, and not theft or porch piracy.
Depending on the value of the goods, shipping damage protection can work well as a fully embedded protection plan, as an opt-in program, or as a premium tiered plan.
‍
Short-term Rental Property Protection
Marketplaces like a vacation rental site or a pet transportation site have several options when it comes to offering protection programs, partly because these sites serve two distinct kinds of users. The first group includes the property or vehicle owners or hosts. Renters make up the second. The most common types of protection for these platforms fall into three categories:
1. Damage protection
Damage waivers can be offered to the renter or the owner of the property. You'll want to think carefully about who you want to protect and what the business implications could be: for instance, which party is causing the damage, and who owns the protected property? Working with a partner can ensure your program is a good fit for your business model.
2. Host liability
A host liability plan protects the owner in the event a renter is injured at the owner's property. Because this kind of offering is more like insurance, you need to carefully consider whether this option will work for you. There could be a need for licensing or considering other complex regulatory matters. If you want to do your own digging into this topic, here's a comprehensive white paper. If not, the right embedded insurance partner should be able to advise you on the pros and cons of host liability.
3. Trip cancellation
Many peer-to-peer sharing sites offer trip cancellation plans which protect the renter's nonrefundable rental fees. Plans can be customized to cover a list of reasons for canceling the rental-–from being quarantined to passport theft—or not requiring any reason at all.
Uber is an example of a platform that offers fully embedded protection to riders. It's included as part of the cost of the ride. Venue rental sites will often offer an opt-in plan for special events insurance or possibly a damage waiver. Outdoorsy, an RV sharing marketplace, distributes its embedded insurance plans as a premium tiered plan giving renters a choice of packages, all of which include increasing amounts of coverage.
‍
Pet Protection
It's raining cats and dogs and embedded insurance. Hugely popular, protection plans for pets are broken into two categories: pet wellness plans and pet insurance plans. Of the two, you'll face far fewer compliance barriers with pet wellness. Wellness plans can cover services like vaccinations, microchipping, spaying and neutering, routine exams, screenings, and deworming. You can even include grooming and behavioral training.
Pet insurance plans don't cover the customary services covered by wellness plans, but instead can cover accidents and injuries, surgeries, illnesses, prescriptions, emergency care and diagnostic tests.
Tint: The Right Choice for Embedded Insurance Plans
No doubt about it, there are a lot of things to consider before launching an embedded insurance plan. Get started by choosing a partner who can help you define your needs and design a program that works for you and your users. With Tint, you get expert guidance and software that lets you own and manage your embedded insurance plan. You simply decide how much risk you want to take on and enjoy the increased revenue. You'll be set to continue scaling your embedded protection plans without using your own engineering resources.
Owning your own insurance and protection products is a great way to grow your business. At Tint, we work with some of the most innovative tech platforms out there and would love to learn more about your goals. Let's talk soon!
‍
‍This website is made available to you for informational purposes only. It does not provide specific legal advice and is not a substitute for competent legal advice from a licensed attorney. The material on this website may not be used by any person or entity without the express written consent of Tint.
‍